Sidetracked: The Struggle for BC's Fossils
Review By Godfrey Nowlan
November 4, 2013
BC Studies no. 181 Spring 2014 | p. 161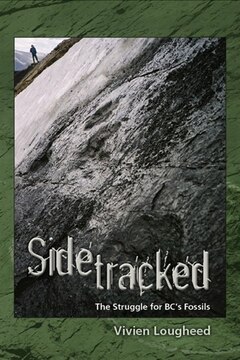 This book explores the relationship between professional paleontologists and amateur fossil collectors in the context of several important paleontological sites in British Columbia. It focuses on the friction that can develop between enthusiastic amateur collectors who are out on the land every spare moment, delighting in the hunt for fossils, and the professional paleontologist who (paradoxically) has less time for field work and is judged mainly by the quality and number of scientific papers published. The basis for the friction is not unlike the relationship between the tortoise and the hare: professional paleontologists may seem slow and plodding to the amateurs because they excavate specimens slowly and then spend years preparing them in their laboratories. The collectors, on the other hand, enjoy the thrill of the hunt without the need to do painstaking work to get scientific publications out. Not surprisingly, conflicts develop and some relationships turn really sour if solutions are not found. In a compelling "he said, she said" style, several real-life dramas from British Columbia are revealed in the book.
The author opens with a brief review of some of the more famous paleontological collecting conflicts in Victorian times. She dwells on the talent of Mary Anning, who collected fossils on the Dorset Coast in England and provided specimens to many of the key paleontologists and collectors of the day, but was little recognized for her expertise at the time. The rest of the book is devoted to more recent conflicts in British Columbia that revolve around some spectacular fossil localities: mainly the dinosaur track-ways in Kakwa Provincial Park and in the Tumbler Ridge area, and also the famous McAbee site near Cache Creek that yields spectacularly diverse and abundant plant and insect fossils from an Eocene lake bed about 60 million years old.
The stories are told from a balanced point of view and it is clear that the author has extracted honest accounts of events from both collectors and paleontologists; she also has a foreword from respected paleontologist David Raup that sets up the content of the book very well. In between riveting accounts of failed relationships are well-considered appraisals of the laws surrounding the collection and preservation of fossils in both British Columbia and Alberta. There is perhaps no perfect set of laws governing the collection of cultural property, but there is a strong movement afoot globally to protect fossils from the market place, mainly because the depletion of the magnificent fossil localities in Morocco has provided material for sale in rock and mineral shops around the world.
This book should be read by all paleontologists to learn some lessons about how best to manage productive relationships with fossil collectors, and it should also be read by collectors to gain a perspective on the realities of professional paleontology.
Sidetracked: The Struggle for BC's Fossils
By Vivien Lougheed 
Smithers: Creekstone Press, 2011. 192 pp. $21.00 paper