Imagining British Columbia: Land, Memory & Place
Review By Jenny Clayton
November 4, 2013
BC Studies no. 171 Autumn 2011 | p. 149-150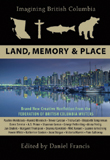 Imagining British Columbia: Land, Memory and Place, edited by Daniel Francis, is a collection of twenty creative non-fiction essays contributed by members of the Federation of British Columbia Writers. The federation invited writers to submit essays "with a strong sense of place that capture the writer's connection or interaction with a specific geographical landscape, community or setting in British Columbia" (8). Francis chose eighteen out of about one hundred submissions and invited two additional authors to contribute. The anthology is offered as a "gift of self-awareness" to the province on its 150th birthday (9). 
Each writer has thought deeply about his or her relationship with a particular landscape, and, as a result, this book achieves its goal of capturing a sense of place. Aside from two essays set in Vancouver, and three in which part of the action takes place in Vancouver or Victoria, the majority focus on rural, or "wilderness," sites that writers have visited on holiday (alone or with minimal company) or where they have carved out a living for themselves. In this sense, the collection captures an "imagined British Columbia" that residents might escape to rather than the urban spaces in which most of us spend our daily lives. Even if we experience them only fleetingly, these landscapes are essential to British Columbia's identity: they offer solace, inspiration, or a new vision to the authors, and their descriptions are a gift to readers. Some writers refer to problems such as global warming, overfishing, and consumerism, yet a more balanced portrait of British Columbia would also have examined landscapes altered by industrial development and resource extraction. 
Several writers explore themes of community and memory by sharing their own family histories as they relate to land settlement, the Depression, war, and postwar social movements. Other writers use family as a jumping-off board to broader community histories, such as Mona Fertig in her excellent essay on the postwar Vancouver art scene or Jan Drabek in his entertaining take on modernization on Bowen Island. Margaret Thompson and George Fetherling's research on the fur trade and gold rush, respectively, has resulted in imaginative and engaging narratives, but the role of Aboriginal peoples, which should have been a major part of these histories, is underdeveloped. In addition to stories of families with deep roots in this province, Imagining British Columbia includes five essays by authors who have come to British Columbia from elsewhere and who describe the challenge of finding home. Shannon Cowan, part of a generation of wanderers, compares herself to the Himalayan blackberry: "a foreign invader that naturalizes in disturbed areas. It doesn't belong here, but it's been successfully adapting to the landscape" (26). 
Bringing together so many voices to imagine such a broad topic raises expectations that this anthology will attempt to capture the complexity and diversity of this province, yet essays by Aboriginal or Asian British Columbians are absent. Representations of Aboriginal residents tend to be marginal, which seems surprising for a collection compiled by the author of the critical and inf luential The Imaginary Indian. Though Imagining British Columbia offers a partial vision of this province, the essays it presents are thoughtful, well-crafted, and lyrical explorations of individual relationships with nature and family in British Columbia. This collection introduced me to a variety of authors, and the short descriptions of their work placed at the end of each essay is a gateway to further reading. In a second non-fiction anthology, the Federation of BC Writers could further contribute to our self-awareness by addressing the social and environmental challenges facing British Columbia's communities and landscapes, and by presenting a more inclusive and diverse selection of authors. 
Imagining British Columbia:Land, Memory & Place
Edited by Daniel Francis
Vancouver: Anvil Press, 2008. 216 pp. $18.00 paper.