Father August Brabant: Saviour or Scourge?
Review By Nicholas May
November 4, 2013
BC Studies no. 181 Spring 2014 | p. 154-55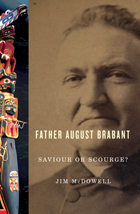 The numerous European men and fewer women who travelled overseas to spread a particular brand of Christianity among distant peoples in the nineteenth century are a perennial source of interest among scholars — and for good reason. Situated at the intersection of their would-be converts and the expanding societies from which they came with their new offerings and more imperious gestures, missionaries can tell us much about processes like colonialism and cultural encounter.
Jim McDowell aims to offer a critical assessment of one missionary who came to British Columbia with this biography of August Brabant, a Roman Catholic priest from Belgium. Brabant was the first missionary to reside and work on Vancouver Island's west coast, where he spent thirty-three years among the Nuu-chah-nulth peoples after his arrival in 1874.
Drawing primarily on Brabant's writings, mainly the account he left of his life's work which was published in 1900, McDowell succeeds in his goal of providing a rigorously chronological and thoroughly researched account of this missionary. Yet his attempt to make Brabant's "diary-like style" more engaging results in some quotes that come across quite differently when compared to the missionary's actual words. McDowell also engages with the relevant ethnographic literature and interviewed the late hereditary Hesquiaht chief Matlahoah (Dominic Andrews) as part of his effort to bring an aboriginal perspective to his study of the priest. This is laudable, as to a great degree stories of missionaries and the peoples who hosted them are inseparable, needing to be told together to be fully understood. Appropriately then, this is also a book about the Hesquiaht, among whom Brabant based his mission.
The Hesquiaht response is largely one-dimensional in McDowell's telling, embodied in Chief Tawinisam, who led a sustained battle to resist Brabant's attempts to reform his people. Their engagements are largely reactive, and their at least nominal conversion even inevitable, being "a small price to pay" for some relief from the disruptive social and economic changes the Hesquiaht were experiencing (310). Despite evidence in the book of varied interest and responses within Hesquiaht society to aspects of the Christianity offered, McDowell sees their Christianization only as an indication of missionary domination and Hesquiaht capitulation to it.
McDowell's primary concern, however, is to critically assess the missionary, which he does through the stark propositions of the book's subtitle. In this binary the author clearly places Brabant on the side of scourge. Brabant in his ignorance pushed for changes that were destructive of Hesquiaht culture, including the residential school he helped found. McDowell repeatedly notes where the missionary failed to see parallels between his own and Hesquiaht spiritual practices and beliefs that are evident to us today. Yet examples appear in this book that invite a more complex, even intriguing picture of the missionary. While Brabant attacked some native practices, he was ambivalent about others, notably the potlatch (153); on one occasion he disappointed his visiting bishop with an underwhelming reception because he "thought it would be hypocritical to make the Hesquiahts turn out and act as Christian Indians do elsewhere," when they were largely unconverted (249).
Indeed, McDowell's sharp judgement seems to foreclose exploration of these and other potential paths into a deeper understanding of Brabant. It also runs the risk of perpetuating the myth of the missionary as a freestanding individual who acted out his agenda on hapless natives, largely immune to the larger social and cultural matrix in which he lived. The contribution of this book lies less in its attempt at a definitive assessment of a noteworthy colonial figure, than in the way the detailed story McDowell provides might spur the reader to think about the complexity and ambiguities of nineteenth-century missionary encounters in British Columbia and beyond.
Father August Brabant: Saviour or Scourge?
By Jim McDowell 
Vancouver: Ronsdale Press, 2012. 350 pp. $24.95 paper.