Empire of Ice: The Rise and Fall of the Pacific Coast Hockey Association, 1911-1926
The Knights of Winter: The History of British Columbia Hockey from 1895 to 1911
Review By Wayne Norton
November 4, 2013
BC Studies no. 183 Autumn 2014 | p. 156-58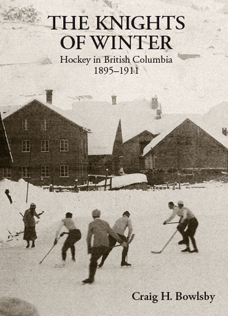 While the belief persists that central Canada and the National Hockey League provide the essential cement linking Canada's national identity with the game of ice hockey, it is refreshing to be reminded that ours is a nation with several distinctly regional hockey histories. Assisted by the recent emergence of societies devoted exclusively to hockey research, regional and even local topics are receiving greater and overdue attention. British Columbia has a rich history of amateur hockey and a unique history of professional hockey, and both have received in-depth attention from hockey historian Craig Bowlsby. The Knights of Winter examines the early years of amateur hockey in British Columbia, while the more recent Empire of Ice looks at the introduction and development of professional hockey in the Pacific Northwest.
The Knights of Winter is a remarkable book. Privately published and supported by nearly three dozen photographs (several from the author's private collection), it is the result of countless hours spent examining often incomplete published reports of amateur hockey games in obscure BC newspapers. In his Introduction, Bowlsby states that, however imperfect his sources, he has listed every player and chronicled every game reported on by those newspapers. Not only are players and games chronicled and listed on a year-by-year basis, their activities are organised by Bowlsby into no fewer than eleven appendices covering individual and team statistics and trophy winners. Some readers may question the necessity of including the names of those who failed to make the Moyie team in 1909 and information about high school games, but Bowlsby has let no such detail escape. Structured as a chronicle with separate chapters devoted to each calendar year, the book manages to convey the developing passion for the game amongst both players and spectators — especially in West Kootenay, the essential centre of British Columbia's ice hockey in these formative years.
If The Knights of Winter succeeds as an encyclopaedic history of early amateur hockey in British Columbia, the inclusion of an extensive chapter and four additional appendices about controversies surrounding hockey's origins shifts the focus to an admittedly related, but separate, topic. Beginning with geological history and referring even to the War of the Spanish Succession, this discussion would perhaps have been better dealt with elsewhere. In The Knights of Winter, Bowlsby's interest in Frank and Lester Patrick is evident. Although amateur play obviously did not cease with the 1910/ 1911 hockey season, Bowlsby ends his chronicle there because his attention turns to the Patrick brothers' adventures in professional hockey.
In terms of structure and organisation, Empire of Ice is a companion volume of its predecessor: a chronicle — this time of the Pacific Coast Hockey Association (PCHA) and its successor Western Canadian Hockey League — supported by a splendid selection of photographs and extensive appendices of statistics. Again Bowlsby writes about two themes, but this time the two are more intimately connected. Empire of Ice is both a sports history and a business history. On the sports side, readers may be surprised at how violent games often were — slashing, spearing, butt-ending, smashing sticks over the heads of opponents all seem rarely to have resulted in penalties. Equally, they may be surprised how readily Frank Patrick would simply cancel games to gain an advantage over a rival team and how Lester Patrick attempted to ban swearing in his Victoria arena. The details of who scored and who passed and who assisted and who took a penalty in each and every game can be overwhelming, but Bowlsby writes in the belief that details of games from yesterday's sports pages are inherently interesting, and dedicated fans of hockey history will undoubtedly agree.
For those who do not, there is the narrative of the Patricks' business empire, details of which the family rarely made public. The broad outlines of the Patricks' PCHA are well known, but aspects of their almost reckless business venture remain obscure. Bowlsby's trolling of newspaper sources has revealed financial information that was not included in Eric Whitehead's standard biography The Patricks (Toronto: Doubleday, 1980). He takes pains to identify the extent to which other individuals were involved in the business aspects of the PCHA's clubs and arenas, but ultimately demonstrates that the league was a family business with one individual at its CEO. The PCHA, says Bowlsby, "was like an army of separate regiments that all took their orders from Frank Patrick" (95). By far the best documented of those regiments to date has been the Millionaires, but Bowlsby shows how their fortunes were fundamentally connected with those of their rivals in Victoria, New Westminster, Seattle, Portland, and Spokane. Frank Patrick's back-room dealings in the collapse of his hockey empire are also closely followed.
The insistence on including almost everything uncovered by research results in a challenge for readers of both books, perhaps more so in Empire of Ice where additional detail is inconsistently treated (often being placed in bracketed text and sometimes in footnotes), and there are aspects of both volumes that suggest more time taken in preparing for publication would have been well-spent. Nevertheless, these examinations of British Columbia sports history indicate that both amateur and professional hockey have long provided a narrative that is regionally distinct. The anticipated attack from the expansionist NHL extinguished the independent professional game regionally, but only after the Patricks' hockey empire had secured three Stanley Cup wins for West Coast teams. Should that trophy ever again be claimed by a Vancouver team, it will be an additional chapter in a history with deep regional roots — a history to which Craig Bowlsby has made original and significant contributions.
The Knights of Winter: The History of British Columbia Hockey from 1895 to 1911
By Craig Bowlsby 
Vancouver: Knights of Winter Publishing, 2006. 411 pp. $60.00 cloth
Empire of Ice: The Rise and Fall of the Pacific Coast Hockey Association, 1911-1926
By Craig Bowlsby 
Vancouver: Knights of Winter Publishing, 2012. 368 pp. $25.00 paper