Bringing Water to Victoria: An Illustrated History, 1843-1915
Review By Adele Perry
December 22, 2016
BC Studies no. 195 Autumn 2017 | p. 160-161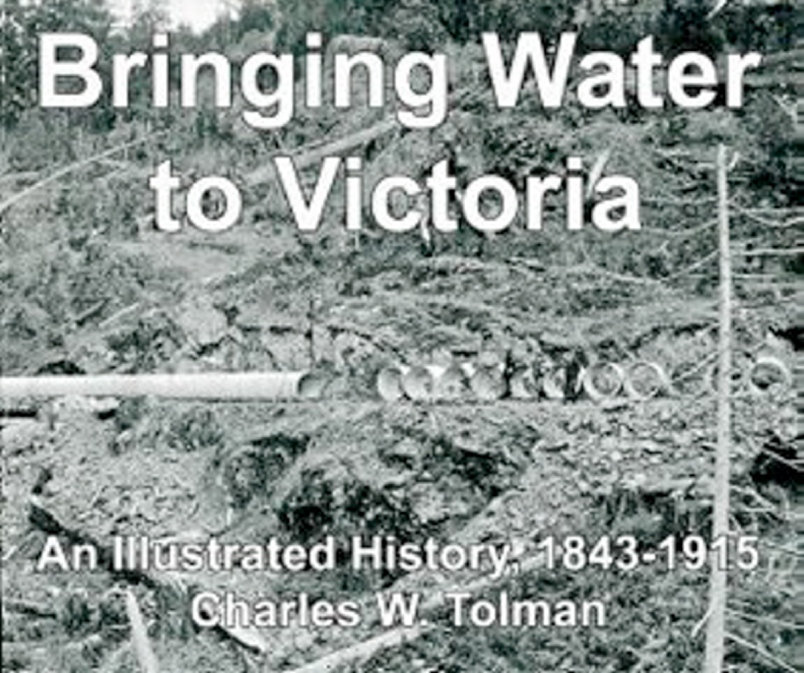 Little is as intimate and political as the water that flows from city taps. We fill our bodies with it, we wash our babies in it. Many of us depend on the state to provide it and more of us depend on the state to regulate it. The quality of our health is in no small part determined by access to plentiful amounts of drinking water. Who has good access to it and who does not – whether in the global south, the deindustrialized American city of Flint, Michigan, or the 19 First Nations in British Columbia and 87 First Nations communities elsewhere in Canada who together had a staggering 165 drinking water advisories as of the spring of 2017 – tells us a lot about who, exactly, can access the promises of modernity and who cannot.
For all of this, historians have not spent an awful lot of time studying the history of drinking water and water supply, at least in British Columbia or Canada. Charles W. Tolman's Bringing Water to Victoria: An Illustrated History, 1843-1915, is an exception. This is a small, richly illustrated book, published by the Sooke Regional Museum. Tolman is a retired psychology professor from the University of Victoria. Using a private archive of photographs taken by a project engineer, newspapers, and other archival photographic collections and records, Tolman crafts a history of Victoria's municipal water supply. He begins with the arrival of non-Indigenous settlers at Fort Victoria in 1843, takes readers through the complicated years at the end of the nineteenth century, and then focuses on the planning, funding, and building of a pipeline carrying water from Sooke Lake to Victoria between 1910 and 1915.
Tolman opens with the statement that his book "is intended as a celebration" of Victoria's water supply (vii). And indeed it is. Bringing Water to Victoria is full of fascinating photographs and quotes from primary sources. Tolman traces in detail the complicated process by which Victoria came to decide on Sooke Lake as a water supply and build a flowline connecting it to the city. The book concludes with an afterward contributed by the manager of the Capital Regional District's Integrated Water Services, expressing his hope that the system built a century ago will continue to provide "some of the best drinking water in the world" (206).
Bringing Water to Victoria suggests the enormous potential of studying the history of urban domestic water supply to cities like Victoria. The development of municipal water systems in the last decades of the nineteenth century and the first decades of the twentieth century was a key step in urban growth and in the creation of municipal infrastructure and public health systems. During this much-studied period of social and urban reform, contemporaries documented the building of aqueducts, flowlines, reservoirs, and dams with loving, celebratory care, and Tolman marshals this rich archive to good effect.
Historians can learn much from these records. However, we will learn the most when we push beyond the celebration of city water and the men who designed, funded, and built the systems that delivered it, and continue to deliver it, to cities like Victoria. Instead, we might ask what municipal water supply systems have cost the Indigenous people upon whose land they were built and whose water they used. We might also ask the questions that historians of the environment are posing about mega-projects and their lasting imprint on the land:  how did projects like the Sooke to Victoria flowline reshape the lived environment of southern Vancouver Island, particularly by locating a substantial urban population in an area without ready access to good drinking water? As questions of water supply and the lack of it continue to make headlines, we will no doubt continue to think about the history of water, that deeply intimate and political stuff. Tolman's affectionate, visually rich and detailed local study suggests some of the ways that we might do so.