At the World's Edge: Curt Lang's Vancouver, 1937-1998
Review By Bill Jeffries
November 4, 2013
BC Studies no. 175 Autumn 2012 | p. 146-47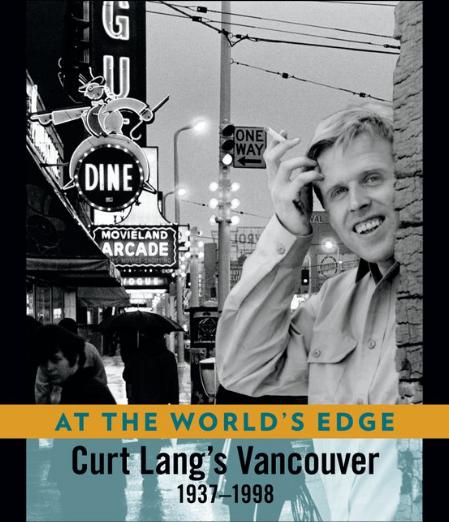 The historical photography section of the Vancouver Public Library is one of Vancouver's unexplored treasure troves. Among many other gems, it holds the prints and negatives produced by seven photographers under the auspices of a 1972 Local Initiatives Programme (L.I.P.) Grant called "The Leonard Frank Memorial Society." Of the seven, Curt Lang was either the most prolific or the most generous in handing over the fruits of his photographic labours – the VPL has 8,400 Curt Lang negatives from the project. That quantity would be a life's work for many photographers, including Lang's photographic mentor, Fred Douglas; for Lang, it was perhaps the smallest component in a life lived large.
Lang is a serious candidate as Vancouver's Renaissance Man of the 1960 to 1990 period. High culture, however, wasn't handed to him on a Vancouver platter, so he sought it out. Claudia Cornwall's biography reads a bit like a Russian novel in which the protagonist's search for a life in art continually led to new adventures. One could posit that Lang's life started in idealism and ended in a capitalism that was, at best, marginally successful. In lieu of fortune, and even fame, he had what British Columbia offered between 1960 and 1990: adventures.
At the World's Edge is a labour of love that involved years of research and fact checking. Claudia Cornwall herself was present for some of the adventuring that emerged from Lang's hydra-headed quests. Her research was aided by her husband having been a business associate and friend of Lang's. In business, Lang had brilliant ideas. Profit would have pleased him, but acting like a normal businessperson was not possible, and the serious profits for his companies only materialized after his death – one firm was sold to Boeing for $14 million.
If you've never heard of Curt Lang it may just be that you travelled in different circles. There is teenage Curt, at the beach with Al Purdy in 1954; soon after, he is visiting Malcolm Lowry in Dollarton with Purdy and having his poems assessed by Lowry; then he is hitch-hiking to Montreal to start a grand tour of Europe with Purdy, and staying in Paris and Mallorca; a few months later he's in Montreal working in a hospital emergency ward, all this by age eighteen. Then came the years of running a log salvage business up and down the BC coast, commercial fishing, and running a fish-buying boat that had well over a million dollars in cash on board — in 1960s dollars — for purchases.
Cornwall's book lucidly covers those and many other adventures and misadventures and has a generous sampling of Lang's photographs. The locations of many have now been identified through the efforts of Lang's brother Greg and Gordon Cornwall. Technologies such as "street view" are Curt Lang's types of technology; in the 1970s he began imagining and creating new ways of using software and computers to address opportunities in the business world. His understanding of both basic and applied science, when combined with everything else that he undertook, is what qualifies him as a Renaissance Man. I can't think of anyone else who did the physical, mental, corporate, creative and cultural work that Lang did – his life seemingly recapitulates the history of this province in the late twentieth century, evolving from manual labour, to resource extraction, to art and to software. Cornwall's book tells that story as well as it could be told; it sheds new light on the history of BC business, especially where it overlapped with Beatnik life.
At the World's Edge: Curt Lang's Vancouver, 1937-1998
By Claudia Cornwall, with Foreword by David Beers and Introduction by Greg Lang
Ganges: Mother Tongue Publishing, 2011 228 pp, $29.95