Above the Bush: A Century of Climbing on Vancouver Island, 1912-2012
November 4, 2013
Review By Jenny Clayton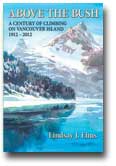 In 1968, Mike Walsh did a solo ascent of Vancouver Island's second highest peak, Mount Colonel Foster in Strathcona Park, "without rope or pitons," an approach he did not recommend to others (67). Reporting on a trip to the same "big, jagged, complex massif" in 1972 with two other climbers, Dick Culbert commented that "as for Mike Walsh — well, it is nice to see that a fine spirit of insanity has survived somewhere amid the march of climbing technology" (70). These and other accounts of climbing some of Vancouver Island's tallest peaks are featured in Above the Bush, a combination of fourteen first-hand accounts of trips undertaken between 1912 and 1972, and eleven chapters written by Lindsay J. Elms based on published accounts, interviews with other climbers, and his own trips. Taken together, the narratives in this book offer glimpses of how climbing was organized, the equipment climbers used, the increasing accessibility of peaks due to logging activities and transportation technology, and how Vancouver Island mountaineering has changed over time in terms of shifting mentalities and ethics.
An experienced Vancouver Island climber, Elms writes with passion and authenticity about places he has also visited himself. Organized chronologically with each chapter focusing on a mountain or cluster of peaks, this book is nicely illustrated with fifty-one dramatic black and white photographs that show terrain, snowfields, and the contours of summits. In addition, nine maps indicate the location of mountains, rivers, and lakes noted in trip reports. A map of all the mountains featured here would help orient the reader, and the book would benefit from an introduction to provide context and identify patterns in the Island's climbing history since 1912, of which Elms is arguably the expert. By highlighting the details of particular trips, this book works well as a companion piece to Elms' Beyond Nootka: A Historical Perspective of Vancouver Island Mountains (Misthorn Press, 1996), which discusses the overall climbing history of major mountains on the Island.
In Above the Bush, authors include well-known Canadian mountaineers Arthur Oliver Wheeler, co-founder of the Alpine Club of Canada, and his son Edward Oliver Wheeler, who participated in the first topographical survey of Mount Everest in 1921. The voices of men living close to the foot of the mountains in the Comox Valley are also featured here, such as building supply store owner Geoffrey Capes and newspaper editor Ben Hughes. Some writers use technical language that is more suitable for readers with climbing experience, while others, such as Capes, have an accessible style that will be appreciated by the general public. To find out more about some of the authors featured in this book, readers can visit Elms' website, Beyond Nootka, http://www.beyondnootka.com/. All the authors here are men, although women participated in some of these trips. A future publication that includes the voices of women climbers such as Phyllis Munday (the chapter on Mount Albert Edward is written by her husband, Don), and of the female members of the Vancouver Island alpine clubs, would help to illustrate the diversity of individuals who were drawn to the mountains for recreation.
This book will appeal to climbers planning their next trip to one of Vancouver Island's many challenging peaks and to historians of mountaineering and outdoor recreation. Even long term residents of the Island will learn about alpine areas with which they are not yet familiar.
Above the Bush: A Century of Climbing on Vancouver Island, 1912-2012
By Lindsay J. Elms
Comox: Misthorn Press, 2012. 176 pp. Illus. $25.00 paper.