The W̲SÁNEĆ and Their Neighbours: Diamond Jenness on the Coast Salish of Vancouver Island, 1935
Review By Wendy Wickwire
March 12, 2018
BC Studies no. 197 Spring 2018 | p. 169-72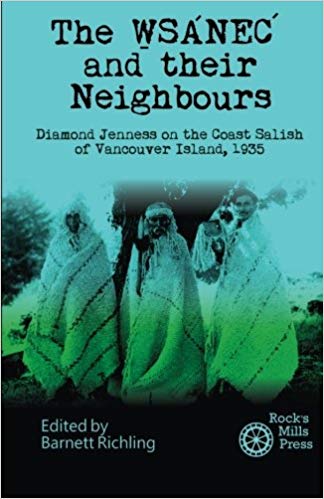 Anthropologist Rolf Knight launched a new chapter of Indigenous history in 1978 with the publication of his book, Indians at Work: An Informal History of Native Indian Labour in British Columbia, 1858-1930.[1]  In contrast to his fellow historians and anthropologists who cast the region's Indigenous peoples as fading relics of the pre-contact era, Knight took a different approach and highlighted their roles as vital and ongoing members of the 20th century world. Chapter by chapter, he described their contributions to the region's commercial fishery and canneries, as well as the logging, sawmilling, mining, packing and other sectors.  He turned the tables on the 'Museum Age' (1880-1920) by showing how 'Indian' carvers, basket-makers, historians, and storytellers capitalized on the ethnographic trade.
For forty years, a cast of colourful ethnologists and curio collectors combed the Indigenous communities of British Columbia for artifacts to fill the shelves and glass cases of newly established museums in Berlin, New York City, Washington, Boston, Chicago and Ottawa.[2] The New York-based Franz Boas (1858-1942) of Columbia University set the tone for much of this work. Worried that the cultures of the region were fast succumbing to westernization, he and his students fanned out across the province in search of real 'Indians' living in isolated nooks and crannies "according to [their] own customs, not influenced by European customs."[3]  They then pumped them dry for information and stories and logged their findings in field journals – which they quickly turned into published monographs.
That even the most remote and isolated of their interviewees were several generations removed from their imagined pristine contact point did not deter them. The Boasians produced thousands of pages of ethnographic text set against the backdrop of the golden age past. Only in their letters, field diaries and journals did they disclose details of the gap between their vision of a pristine, ancient world and that of the living worlds of their interviewees.[4]  Throughout the past two decades, numerous scholars have highlighted this gap as a potentially rich research domain.[5]  Knight  paved the way by showing how the Indigenous peoples of the region had responded to (and profited from) the ethnographic trade. Another 1970s anthropologist, Madrona Holden, added to his work by showing how Coast Salish narrators had adapted their so-called traditional stories for the ethnographic trade.[6]
All of this is by way of introduction to a new book, The W̲SÁNEĆ and Their Neighbours: Diamond Jenness on the Coast Salish of Vancouver Island, 1935. Annotated and edited by Barnett Richling, a senior scholar in the Department of Anthropology at the University of Winnipeg, the book features a rare ethnographic report on the W̲SÁNEĆ communities of the Saanich Peninsula of Vancouver Island (just north of the city of Victoria). Richling discovered the report while working on a biography of a prominent Canadian anthropologist, Diamond Jenness (1886-1969).[7] Jenness had compiled the manuscript from notes he gathered during a five-month field trip in the fall and early spring of 1935-36 under the auspices of the federal government's Victoria Museum in Ottawa. Founded in 1910 by the Canadian government, the Museum (and its Anthropology Division) had a direct link to Boas through its first head, Edward Sapir, who had studied under Boas and made it his mission to introduce the latter's research model to Canada. Jenness joined the unit in 1920 and took over as head when Sapir left in 1925.
Richling provides some of this background in his preface to The W̲SÁNEĆ and Their Neighbours. Because he neglects to draw in the critical insights of Knight, Holden and others, however, some of his commentary will confuse readers.  For example, he writes that Jenness's twelve interviewees (two women and ten men) had gained the bulk of their knowledge of "the 'old ways'" from sitting "at the feet of parents and grandparents who knew no other life."[8]  What to make of the "old ways" in the 1930s and peoples alive at the time who knew "no other life"?  Does Richling mean pre-contact life? Or early-19th century life?  Such phraseology will unsettle those with even a sketchy knowledge of BC history because Jenness's field site – southern Vancouver Island – had changed dramatically from the early-1800s to the mid-1930s. The eldest of Jenness's interviewees, for example, were born in the mid-1850s which meant that few had parents and grandparents with direct experience of the pre-contact period (the late-18th century).  By the 1930s, as Holden stressed in her study of Coast Salish stories, the "old ways" (as conveyed through stories told to outside collectors) must be seen for what they were: products of artificial, two-way exchanges (often involving communication through trade languages and foreign translators, many of whom were missionaries) that addressed, in different ways, the onslaught of settler colonialism (including the 1860s small pox epidemic, missionaries, the Indian Act, reserve formation, settlement, residential schooling and so on).
The critical literature on the Boasian research paradigm offers answers to many of the questions that Richling raises in relation to Jenness's project. Take, for example, Jenness's decision to remove all of the names of his Indigenous interviewees from his report along with descriptions of his interactions with such persons.  Richling is perplexed by this decision. Had he consulted scholars such as John Van Maanen (Tales of the Field: On Writing Ethnography), he would have learned that Jenness was simply following the anthropological convention of the day which was  to "pose as an impersonal conduit" and "pass on more-or-less objective data in a measured intellectual style … uncontaminated by personal bias, political goals, or moral judgments."[9]  The main rule was to avoid all mention of the "actions and words of singular persons" in favour of portraying a picture of the "common denominator people."[10]
Richling explains that Jenness wrote 130 typescript pages of text arranged under sixteen chapter headings that covered everything from fishing and clothing styles to childhood training and marriage rituals.  He was surprised that to find that Jenness's fieldnotes on "guardian spirits, illness and medicine, and winter (or spirit dances)" did not make it into the final report. Once again, this speaks to the ethnographic conventions of Jenness's day: quick data-collection trips culminating with a full written report or monograph. Clearly, Jenness faced problems when he tried to work with his five months of notes on tough subjects such as religion and ceremonialism. He needed more trips and interviews to do it properly. Richling explains that he, as editor,  dealt with these gaps and omissions by taking editorial liberties such as inserting the names of the contributors into Jenness's report wherever he could verify them through Jenness's fieldnotes and turning Jenness's rough notes into three new chapters (#9, "Man and Nature;" #10, "Illness and Medicine;" and #12, "Spirit Dancing").
Despite these issues, Richling has made a major contribution to the history of anthropology with the release of Diamond Jenness's 1935 study of the Coast Salish.  As long as readers approach it with caution – as the culmination of a complicated, five-month exchange between a government anthropologist and a small collection of Indigenous elders – it will be of value. It is telling, for example, that Jenness applied for the job of Assistant Superintendent General of Indian Affairs when the infamous Duncan Campbell-Scott vacated the post in 1932.[11] The link between the federal government's Anthropology Division and its Department of Indian Affairs was that strong at the time.
The most valuable contribution of the book are the 45 stories that follow Jenness's general ethnographic summary.  In contrast to Boas's pattern of stripping the names of storytellers from their stories at the publication stage, Richling published all 45 stories with the names of the storytellers attached.
---