The Last Gang in Town: The Epic Story of the Vancouver Police vs. the Clark Park Gang
Review By Matthieu Caron
March 5, 2018
BC Studies no. 197 Spring 2018 | p. 179-181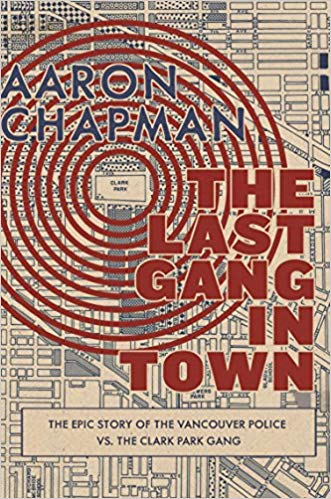 The past decade has witnessed a surge in Vancouver criminal and nocturnal history, from Daniel Francis's Red Light Neon (2006) to Diane Purvey and John Belshaw's Vancouver Noir (2011) and Belshaw's edited collection Vancouver Confidential (2014). Aaron Chapman has been at the forefront of this drive, with his previous books on Vancouver entertainment landmarks the Penthouse Nightclub (Liquor, Lust, and the Law, 2012) and the Commodore Ballroom (Live at the Commodore, 2014) engaging wide audiences with controversial aspects of local history. His newest account, The Last Gang in Town, is another highly accessible read based on the tenets of public and oral history. An enticing narrative of an era when youth street gangs gathered in Vancouver's municipal parks, it is structured around thirty interviews that he conducted over the last decade with former gang members and retired police officers. The spotlight here is on the Clark Park Gang, a group of twenty to thirty young men which coalesced around the green space and playing field at the corner of 14th Avenue and Commercial Drive in east Vancouver.
Tattoos, muscles, leather jackets, petty thefts, countercultural lifestyles, and strong-arm police tactics are all integral to this story. Although Chapman does not refer to substantial secondary literature or present a powerful thesis, the gang's story is soundly and sympathetically situated in British Columbia's urban and working-class histories through careful attention to east Vancouver's socio-economic hardships, "rough" notions of masculinity, and the contested moral authority of the late 1960s and early 1970s. Chapman demonstrates how ideological clashes transpired in physical confrontations between rival gangs and, at times, with the Vancouver Police Department (VPD).
The work can be understood in three parts stretching from the mid-1960s to late-1970s. The first part examines the upbringing of future gang members. Many were subject to domestic violence and wound up in the Juvenile Detention Home. The second part demonstrates the Clark Park Gang's transition from mere "teenage ruffians" into a "criminal problem," as epitomized by their involvement in two of Vancouver's infamous riots: at the Rock and Roll Revival Concert of 1971 and the Rolling Stones concert of 1972. Following these events, the VPD grew suspicious of the Clark Park Gang and began surveilling their activities by assembling a semi-official anti-park gang unit known as the Heavy Squad, composed of the VPD's most burly men, who often played by their own rules. The final part describes intensifying confrontations between the Clark Park Gang and the VPD, which culminated in a chase near the Biltmore Hotel where gang member Danny Teece was "unintentionally" shot and killed by an officer. The ensuing morose atmosphere among Clark Parkers, combined with new hangouts and inevitable responsibilities of adulthood, contributed to their disbandment. The Clark Park Gang was one of the most feared gangs of its kind in Vancouver, but also one of the last.
Historians often treat east Vancouver as a redoubt of working-class consciousness and political activism. However, Chapman shows that the Clark Park Gang had no political agenda. They simply were a motley crew aimlessly looking for a good time, wearing the "badge of villainy with pride" (88). A revealing comment comes from gang member Danny "Mouse" Williamson, who, after being approached by Marxist-Leninist agitators to help them wreak havoc, said "[they were] big on 'liberation'—we didn't even know what the fucking word meant. We didn't give a shit about politics" (72). Decades later, when reflecting on their pasts, former members of the Clark Park Gang describe how their personal histories were likely woven into the history of east Vancouver as a tough, gritty, blue-collar part of the city.
One of greatest strengths Chapman demonstrates in this work is the trusting relationship he clearly established with interviewees who cared to describe such an ephemeral, criminal "underworld" history. The Last Gang in Town was awarded the Canadian Historical Association's Clio Prize for British Columbia in 2017. Well researched and written, with a narrative impulse that will appeal to a wide public, it will fascinate anyone interested in the urban histories of youth, crime, and policing in twentieth-century North America.
References
Belshaw, John, ed. 2014. Vancouver Confidential.   Vancouver, BC: Anvil Press.
Chapman, Aaron. 2014. Live at the Commodore: The Story of Vancouver's Historic Commodore Ballroom. Vancouver, BC: Arsenal Pulp Press.
_______. 2012. Liquor, Lust, and the Law: The Story of Vancouver's Legendary Penthouse Nightclub. Vancouver, BC: Arsenal Pulp Press.
Francis, Daniel. 2006. Red Light Neon: A History of Vancouver's Sex Trade. Vancouver, BC: Subway Books.
Purvey, Diane and John Belshaw. 2011. Vancouver Noir. Vancouver, BC: Anvil Press.