The Cowichan Valley: Duncan, Chemainus, Ladysmtih and Region
Review By David Thomas
November 4, 2013
BC Studies no. 170 Summer 2011 | p. 180-181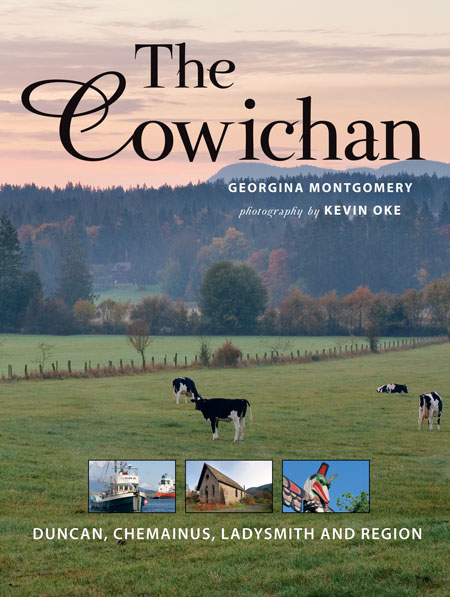 We become travellers in our own land when we read Georgina Montgomery's story and marvel at Kevin Oke's photographs in The Cowichan Valley. The last word goes to Rick Pipes of Merridale Ciderworks, who comments: "When people travel, they want to be able to try the food and drink that is rooted in the region they're in; they want to learn more about the place by sampling what is grown, raised, harvested and made there. Here in the Cowichan we're able to give people that experience now, a real taste of what the region has to offer." The same may be said for the stories and images of First Nations lives and places, and of early European explorers and, later, settlers, dreamers, builders, and remittance men, who each in their own way established their lives and named and helped build their communities in the Cowichan Valley.
This travelogue works well. A map and a postcard from the Cowichan help set the stage for a northward trip from the Malahat through the shoreline and inland towns and villages into the warm heartland. We see glimpses of early settlements and, occasionally, astonishing pictures of sunrises over valley and lake, of frost on estuary fields, and an awesome Kinsol Trestle. While we recognize the familiar mountain skyline set by Prevost and Tzouhalem, we also see communities making something new out of their heritage. Green boxes highlight more of our treasure, including works by such artists as E.J. Hughes and Simon Charley. The author's use of ancient, Aboriginal names – Stz'uminus (Chemainus) and Penelekut (Kuper) – respects those communities and their abiding Cowichan presence. Once through South Cowichan, we begin a long, westward loop to Lake Cowichan communities and to the west coast wonder of ancient trees in the Carmanah and Walbran valleys. The journey returns to the north Cowichan towns of Crofton and Chemainus/Stz'uminus, where murals, not photographs, give glimpses of a community's industry, war experience, and celebrations. The adventure continues north to Ladysmith, whose stories reveal its "Heritage by the Sea" motto, and on to Yellow Point. The Cowichan region's small islands of Saltspring, Kuper, Thetis, and Valdez are given only a cursory glance; perhaps these await another book.
Bed-and-breakfast hosts and their guests should welcome this book, especially its two final chapters. One celebrates the diversity and bounty of the land while the other sets out no-nonsense seasonal and community samplers from which the best Cowichan itinerary can be organized. And residents should also welcome this book because it reveals as it celebrates this warm and generous land we share.
The Cowichan Valley: Duncan, Chemainus, Ladysmtih and Region
by Georgina Montgomery
Madeira Park: Harbour Publishing 2009. 144 pp. $34.95 cloth