The 500 Years of Resistance Comic Book
Morris as Elvis
Working with Wool
November 4, 2013
Review By Jean Barman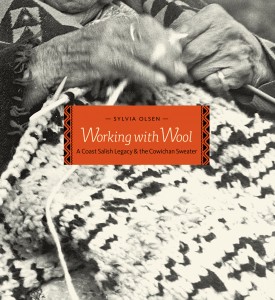 Making Way for Indigenous Voices
However sensitive those of us who are non-indigenous and write on indigenous topics might be, we do so as outsiders. We have empathy and we attempt to understand, but we are not indigenous. Differences in perspectives have long been visible in literature and poetry, but only recently have indigenous voices found their way into the mainstream of non-fiction. Three recent additions make this point in different ways. 
All three authors are embedded within BC First Nations. Gord Hill is Kwakwaka'wakw with some Tlingit ancestry. Morris Bates, who is Shuswap and Haida, grew up between the Sugar Cane Reserve outside of Williams Lake and Loomis, Washington, to which his family moved temporarily to avoid his being sent to residential school. At age seventeen, Sylvia Olsen married into the Coast Salish people and moved to the Tsartlip Reserve on Vancouver Island, where she raised her family as a member of the community. 
The authors come to their topics through lived experience. Gord Hill is a long-time Vancouver social activist and graphic artist who effectively combines his two passions in The 500 Years of Resistance Comic Book. Hill uses a combination of black-and-white drawings and explanatory text to chronicle episodically how indigenous peoples of the Americas have repeatedly and persistently opposed outsiders' intrusions into their ways of life. His goal of giving indigenous peoples a better understanding of their past so as to counter the benign version all too often taught in schools and presented in the media makes that format the perfect vehicle for his hard-hitting message. The impetus behind Morris as Elvis is Morris Bates's ten years headlining in Las Vegas as an Elvis Presley impersonator, with all of the high living that thereby ensued. The visually attractive book chronicles Bates's pathway from a remote reserve with "nothing to go back to" (191) through the ups and downs of fame to redefining himself as a Native youth counsellor in Vancouver's Downtown Eastside. It was taken for granted that Sylvia Olsen would learn to knit as soon as she moved on to a reserve, where women contributed to the family economy through making the Cowichan sweaters that had by then become world renowned. Beautifully illustrated, Working with Wool interweaves Olsen's story with portraits of some of the many First Nations women past and present who have sustained this remarkable home industry. The book is not, however, all goodness and light, also telling the story of knitters "too poor and powerless to resist the merchants' firm grip of the industry," with the result that they sometimes worked "long hours in cramped quarters for very little gain" (210). The ease with which all three authors draw on their lived experience is a powerful reminder that all of us do this, if usually far less openly. The authority we give to the written word belies its basis in ourselves. These three books help us to grasp that critical link between what we write and how we get to that point, particularly when combined with readily accessible websites pointing out how these three authors made the jump. [1] 
Gord Hill, Morris Bates and his co-author Jim Brown, and Sylvia Olsen also make a larger point, which concerns the diversity of indigenous perspectives and experiences. The stark simplicity of The 500 Years of Resistance Comic Book gives its main point an authority that is all too often lost from view in more nuanced and sophisticated accounts: "This is the world we live in, and the history that has made us who we are … Long live the warrior!" (87). So ends the book. Gord Hill is angry, and well he should be. In sharp contrast, Morris as Elvis takes us along on an amazing ride redolent of the human spirit: "There is nothing you can't do if you put your mind to it, and you work really, really hard" (9). The book's subtitle, Take a Chance on Life, sums up Bates's perspective. Working with Wool introduces us, in yet another contrast, to indigenous women who, for all of the Cowichan sweater's fame, have until now remained quietly anonymous. I for one found it impossible to put the three books down, from beginning to end, and am extraordinarily grateful to the authors for sharing these dimensions of what it means to be indigenous in today's British Columbia and Canada. 
[1] On Hill, see "Gord Hill Breaks It Down," available at http://www.youtube.com/ watch?v=jRLH-9cEfPg&feature=related (viewed 17 February 2010); and "500 Years of Resistance," available at http://www. youtube.com/watch?v=wXNTzqzhjGY (viewed 25 April 2010). On Bates, see "Mor r is Bates the Elvis Years" and standard interviews, available at http:// www.myspace.com/morrisbatesaselvisfansite/videos (viewed 2010). On Olsen, see "Sylvia Olsen Working with Wool," available at http://www.youtube.com/ watch?v=X78Lwb8jGC4 (accessed 19 November 2010). 
 
Gord Hill, The 500 Years of Resistance Comic Book. Vancouver: Arsenal Pulp Press, 2010. 88 pp. $12.95 paper.
Morris Bate and Jim Brown, Morris as Elvis: Take a Chance on Life. Kingston, ON: Fox Music Books, 2010. 379 pp. $34.95 paper.
Sylvia Olsen, Working with Wool: A Coast Salish Legacy and the Cowichan Sweater. Winlaw, BC: Sono Nis Press, 2010. 328 pp. $38.95 cloth.