Sister Soldiers of the Great War: The Nurses of the Canadian Army Medical Corps
Review By Sarah Glassford
March 26, 2017
BC Studies no. 196 Winter 2017-2018 | p. 144-145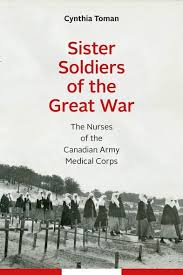 During the First World War, 2,845 women enlisted as lieutenant nursing sisters in the Canadian Army Medical Corps (CAMC) (39), but over the ensuing century their experiences of service have largely gone untold. They comprised a tiny proportion of the total Canadian Expeditionary Force (one-half of one percent), but each of the 761,635 patients admitted to a CAMC medical unit during the war came into contact with them (219). In Sister Soldiers of the Great War historian Cynthia Toman returns the CAMC nursing sisters to their rightful place at the heart of Canada's First World War military medical system.
Drawing heavily on newly available diaries, memoirs, and letters, as well as a demographic analysis of the personnel records of every single nursing sister, the book is an invaluable addition to the histories of Canadian women, medicine and nursing, and the First World War. It will be the authoritative work on its subject for years to come, and (in its focus on rank-and-file sisters) an admirable companion to Susan Mann's 2005 biography of CAMC Matron-in-Chief Margaret Macdonald.
The nursing sisters came from all provinces; 2.7 per cent of them were born in British Columbia, and the same proportion enlisted there. Two of the nurses profiled in the book have a BC connection: Ellanore Parker moved to Victoria with her husband in 1948 (57), while Elsie Dorothy Collis was raised in British Columbia and had personal and professional connections with Victoria, Saltspring Island, and a variety of military hospitals in the province (61).  Reference is also briefly made to the hospital ship The Prince George, which made a single voyage up the BC coast (68). Individual nurses like Parker and Collis are profiled in Chapter 2, but the twenty pages of consecutive mini-biographies found here would have worked better as an appendix that could be consulted in small doses. Two existing appendices (a historiographical essay and a list of CAMC medical units) and a thorough bibliography are useful additions.
Between the introduction and epilogue, six chapters explore the nurses' place within the British military medical system; their collective and individual profiles; their work and working conditions, and how they coped; their social life; and their postwar careers. Wartime nurses have long been romanticized as self-sacrificing saints, but Toman foregrounds the nursing sisters' own words, with engagingly earthy results. Her nurses occasionally soothe fevered brows, but they also get dirty, cold, and frustrated, host tea parties, sightsee, search their clothes for lice, suffer dysentery, bristle at the futility of the war, resent their co-workers and supervisors, and above all, work. The finer nuances of their nursing practice are explained in prose that is medically precise yet comprehensible to lay readers.
By revealing the nursing sisters' wartime world, the book inadvertently throws into sharp relief the terrible experience of the soldiers they nursed. In this way, the military nurses whose voices animate Sister Soldiers of the Great War once again serve as witnesses to the war's cruel destruction as etched into the bodies of their soldier-patients, just as they first did a century ago.