Saanich Ethnobotany: Culturally Important Plants of the WSANEC People
Review By Andrew Cienski
November 4, 2013
BC Studies no. 179 Autumn 2013 | p. 214-215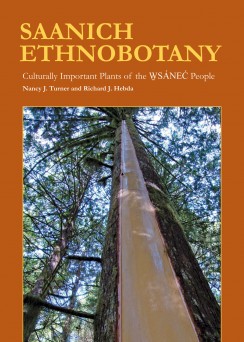 In Saanich Ethnobotany, Nancy Turner and Richard Hebda describe the land and vegetation of W̱SÁNEĆ (Saanich), examine the "many interrelationships between people and plants" (11), and explore the traditional ecological knowledge that allowed local First Nations to sustainably harvest the plants that fed, housed, clothed, and healed them.
The book is the result of Turner's forty-year collaboration with W̱SÁNEĆ Nation elders, especially Elsie Claxton (Tsawout), Dave Elliott Sr. (Tsartlip), Christopher Paul (Tsartlip), and Violet Williams (Pauquachin). Through the researchers, the elders share their stories and knowledge of habitats, characteristics, names, qualities, and uses of over 150 plants, each of which is accompanied here by a colour photo.
The diverse habitats of the Saanich Peninsula of southern Vancouver Island include rocky shorelines, estuarine flats, coastal bluffs, wooded hills, and occasional open meadowlands (17). As a result, a great variety of plants grew and sustained local populations comfortably for millennia. The elders, who are fluent SENĆOŦEN (Saanich language) speakers, give the original names of each plant; Turner and Hebda provide their English and scientific equivalents. Since the mid-nineteenth century, however, immigrant settlements and industry have deforested much of the area and drained important wetlands, dramatically altering the landscape and availability of resources and plant species.
Despite these changes, knowledge of when, how, and what to harvest was passed on to the elders with whom the authors worked. Turner states that an important reason for developing this book was to capture and share elders' knowledge for upcoming generations, and this work is a strong contribution to that end.
In 2011, West Coast Environmental Law hosted a "Dialogues for Legal Innovation" in Vancouver. The focus of the dialogue was "Law Reform for Nature, Climate and Communities". The event allowed economists, policy writers, researchers, First Nations and environmental groups to share perspectives on the implications of current law and policy as regard issues around climate change. At the dialogue, Richard Hebda (2011) stated that the imminent impacts of climate change will force us to adapt our systems, laws, and strategies. He argued that we will need to adopt "new ways of thinking, new world views, or old world views brought back again from people who do respect what the natural environment means." This book exposes the reader to a worldview that seeks to work with, and benefit from, existing resources, as opposed to controlling and exploiting them.
Information about how and when to harvest certain plants underscores the connection between plants and their users. For example, elders advise that bark should be harvested from the south-facing side of a tree, so that the tree heals more quickly, "and the person being treated will heal up too, just like the tree" (30). Each plant entry includes traditional uses, and the authors often caution against using medicinal plants without training. A particular treat is Elsie Claxton's ten-barks recipe for treatment of tuberculosis and venereal diseases. Other plants are used to treat diabetes, menstrual cramps, colds, skin rashes, and the list goes on.
Also, there are stories, both personal and mythological, which again demonstrate and deepen the long-standing mutual relationship between the people and plants of W̱SÁNEĆ. Earl Claxton explains the traditional thirteen-month calendar that shifted the focus of each season's harvests. He gives names for each lunar month, and lists the resources harvested at various times of the year.
Overall, Saanich Ethnobotany is interesting and important on many levels. It provides linguistic, historical, geographical, and of course, botanical information. Ultimately, it shares insights and local examples of "the role of plants in human culture and language" (11). Turner and Hebda's academic rigour, combined with elders' traditional ecological knowledge, results in a fascinating glimpse of a worldview that is at once vital and threatened.
REFERENCES
Hebda, R. 2011. "Dialogues for Legal Innovation: Law Reform for Nature, Climate, and Communities." Available at http://www.youtube.com/watch?v=0of97Qqv3OI (viewed 19 May 2011).
Saanich Ethnobotany: Culturally Important Plants of the WSÁNEC People
By Nancy Turner and Richard Hebda 
Victoria: Royal British Columbia Museum, 2012. 176 pp. $24.95 paper.