Reconsidering Confederation: Canada's Founding Debates, 1864-1999
Review By Alex Gagne
June 11, 2019
BC Studies no. 203 Autumn 2019 | p. 160-161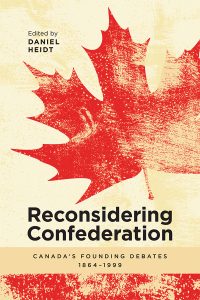 A dynamic collection of essays, Reconsidering Confederationsets out to "provide a primer for Canadians who want to better understand similarities and differences between provinces, regions, and peoples" (13). Much more than a basic outline of regional differences during the process of Confederation, this collection reconceptualizes Confederation as an ongoing political treaty between three founding peoples – English, French, and Indigenous – which continues to unfold today. Working to successfully deconstruct the motivations behind the actions of political leaders, these essays bring a more balanced understanding of Confederation through inclusion of multiple "visions of Confederation's purpose" (7) embodied in the voices of political leaders who opposed Confederation and advocated for provincial sovereignty or annexation by the United States. As a result, Reconsidering Confederationfills a genuine need for self-reflection about longstanding preconceptions that permeate both scholarly and popular mythology of the Canadian union.
It is evident that these impressive contributors framed their chapters according to individual style; therefore, while the overall goal of the book is to reassess Confederation, innovative analyses used by each author are refreshingly distinct and do not eclipse commonalities which band these works together. Each chapter effectively highlights the importance of local autonomy and emphasizes that every founding debate turned upon retaining economic, political, or cultural sovereignty. Each selection offers a thoughtful inclusion of Indigenous treaty-making and emphasizes Indigenous people's impact on the formulation of Canadian Confederation. For example, J.R. Miller's opening chapter deconstructs the various treaties enacted in Canada between Indigenous peoples and the Crown and refashions the process of treaty-making as a covenant between Indigenous peoples, the Crown, and a deity, which continues to evolve and function today. As a result, the general notion of Confederation is reshaped to form an ongoing treaty in perpetual process of uniting Canada's three founding peoples.
Some authors take a purely political approach to certain provinces entering Confederation, such as Robert Wardhaugh and Barry Ferguson, who evaluate the North-West Rebellion and the creation of Manitoba. A number of the entries take a more historiographic stance. For example, Daniel Heidt's chapter on Ontario's reaction to Confederation highlights that while Ontario may have been perceived by many as the "center of Canadian politics" (53) and Confederation, there were still many political opponents to a Canadian union in Canada. Indeed, Heidt shows that many politicians believed that Ontario would fall into debt by providing services to other Canadian provinces. Similar to Heidt's historiographic slant, Phillip Buckner's chapter on Maritime provinces demonstrates that the Maritime region was not forced to "enter a union that they neither needed nor wanted" (102). Instead, Buckner discusses a growing anti-American current in Nova Scotia and New Brunswick in particular – coupled with a sense of imperialism – which culturally bound the Maritime region to central Canada and made Confederation a very appealing offer to some. Other contributing authors provide studies focused on the cultural protectionism that guided the Confederation debates, such as Marcel Martel's, Colin M. Coates', Martin Paquet's, and Maxime Gohier's evaluation of Quebec and its hard-line negotiation tactics which won them control over education, language, and minority rights as they moved toward Confederation.
A number of special features enhance the text, including chapters containing graphics depicting renowned political activists, insertion of carefully selected quotes, and supplementary reading lists at the close of each chapter, making this work invaluable to undergraduate students and non-specialists alike. As a whole, Reconsidering Confederation provides a very extensive selection of excellently written articles that effectively interrogate the foundational debates of Confederation.