Queer Mobilizations: Social Movement Activism and Canadian Public Policy
Politics of Belonging
Review By Anika Stafford
March 3, 2017
BC Studies no. 196 Winter 2017-2018 | p. 166-168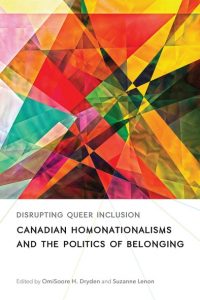 In recent years, Canada has extolled itself as a bastion of queer rights on the global stage. British Columbia, in particular, puts forth an image of itself as progressive. But what histories do these claims erase?  Which queer lives are masked? Two UBC Press anthologies bring together queer histories and the complexities of current queer activism to explore these lines of inquiry: Queer Mobilizations: Social Movement Activism and Canadian Public Policy, edited by Manon Tremblay and Disrupting Queer Inclusion: Canadian Homonationalisms and the Politics of Belonging, edited by OmiSoore H. Dryden and Suzanne Lenon.
Fitting for a Canadian era in which many LGBTQ people have legal rights on paper, Queer Mobilizations focuses on how queer lives are "regulated, or even repressed… based on the premise that heterosexuality is the norm and that LGBTQ desires and sexualities are acceptable only when they ape heterosexual ones" (7). Each chapter is divided into sections: Historical Background, Queer Activism Today, and Queer Activism and Public Policy. The policy sections each offer three or four case studies that give concrete examples of the "agenda, actors, resources, strategies" (34) within their arenas of activism. The cases overview high profile issues such as work for marriage equality and school inclusion. As a whole, the anthology offers a wide geographic scope: federal, regional (Atlantic Canada, Alberta, British Columbia, Ontario, and Quebec), and municipal (Vancouver, Montreal, Toronto, and Halifax). Tremblay situates the book within social movement theory and public policy analysis. As the editor, she sidesteps critique as to whether or not identity politics risk essentialism and dualities (e.g. gay/straight) and argues that the goal of the scholarship is to "consider ways [identity politics] contribute to the study of LGBTQ activism and its interactions with governments in Canada" (4).
The case studies are numerous but brief and can therefore lack nuanced analyses of the racism and colonialism they overview. For example, Tremblay comments that the "federal government and Aboriginal peoples are inescapable interlocutors since they are trapped in a colonial relationship in which the latter are dependent on and subjugated to the former" (31). Given that the state generated "dependence" in order to subjugate Indigenous nations, this brevity leaves further investigation to be desired. One could argue the opposite, that the Canadian nation-state is dependent on Indigenous land for its continued usurped rule. Rochu-Ingram's "Building Queer Infrastructure: Trajectories of Activism and Organizational Development in Decolonizing Vancouver," stresses the need for diverse spaces and resources to serve a wide range of queer populations; and Simon Fraser University criminologists Burtch, Pescitelli, and Haskell discuss issues facing urban, two-spirit, Indigenous youth in the conclusion of their chapter, "LGBTQ Movement in Western Canada: British Columbia." However, such discussion does not loom large within the larger anthology.
In Disrupting Queer Inclusion, Dryden and Lenon provide a rare depth of exploration into intersections of the Canadian nation-state, Indigeneity, and queer activism. The chapters provide critical challenges to "rights"-based activism from an array of prominent scholars and activists. All centre on the following:
racialization structured by white supremacy; current and ongoing settler colonialism; neoliberalism, that works with white supremacist settler capitalism to constitute the contemporary Canadian nation-state; and the persistence of imperialist mythologies that continue to position Canada as a peace-keeper, a middle power, and a land of freedom (8).
There is a generative mix of topics covered through the ten chapters of the book: correspondence projects that seek to bring queers who are incarcerated into a sense of shared queer community, the construction of the racialized Other in the ban on gay blood in Canada's blood banks, and the ideologies of modernization and persecution in gay refugee cases.
Through the sites addressed in Disrupting Queer Inclusion, authors challenge the idea that equity is achieved simply by adding gay rights to dominant institutions. For example, in "Pink Games on Stolen Land: Pride House and (Un)Queer Reterritorializations," Sonny Dhoot addresses Vancouver's nationalist discourse when hosting the 2010 Olympic and Para-Olympic Games. He examines how notions of "gay friendly" and "progress" co-constitute each other in producing Canada as a forward-thinking and inclusive nation. This discourse was particularly noteworthy through the creation of a "Pride House" offered to gay athletes and community during the games. However, at the same time, the Olympics perpetuated colonial violences, continuing "land theft, and irreversible ecological and cultural destruction of Indigenous territories" (50). Coining the generative term, homocolonialism, Dhoot describes Pride House as not only "(re)making of the space that once belonged to Indigenous peoples but also a pronouncement of Canadian sovereignty over that space: homocolonialism" (58).
Queer Mobilizations: Social Movement Activism and Canadian Public Policy
Manon Tremblay, editor. Vancouver, BC: University of British Columbia Press, 2015. 336 pp.  $34.95 paper
Disrupting Queer Inclusion: Canadian Homonationalisms and the Politics of Belonging
OmiSoore H. Dryden and Suzanne Lenon, editors.  Vancouver, BC: University of British Columbia Press, 2015. 208 pp.  $29.95 paper