In the Spirit of Homebirth: Modern Women, An Ancient Choice
Review By Megan J. Davies
March 1, 2018
BC Studies no. 197 Spring 2018 | p. 187-88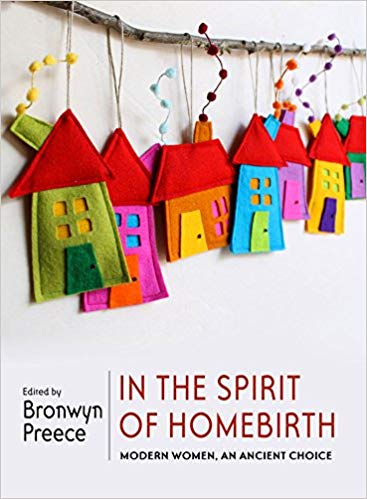 This edited volume of modern BC birthing stories will be a compelling read for anyone with a personal or professional interest in the rich drama of childbirth. Not intended as a scholarly text, the sixty multi-authored contributions are testimonials, memoirs, manifestos, poetry, and photo essays by women who chose to have their babies off the mainstream medical grid. Lasqueti Island home-birthing mum, writer, and improv artist Bronwyn Preece pulled together the collection as a resource for expectant parents, inspired by Spiritual Midwifery, Tennessee midwife Ina Mae Gaskin's iconic 1977 counter-culture birthing bible.
I read the book in one long evening, riveted by tales which both complicated and confirmed my own research on 1970s and 1980s homebirth and community midwifery in Canada's western province. Most of the book contributors regard hospital birth today as a sub-standard, disempowering, even soul-destroying event, suggesting that letting dads into the birthing room in the 1980s was a decorative flourish rather than part of a substantial makeover of obstetrical care. Dr Michael Klein, one of the original architects of British Columbia's midwifery system, would likely agree, citing excessive caesarean sections and a medical education system that favours the technological fix. Reading Peerce's extensive and rather eclectic collection, I discovered that dissident doctors are still out there, quietly subverting the system. But midwives — who kept safe many radical birthing mums determined to give birth far from hospital during the 1970s — are now sometimes regarded as part of an unhelpful birthing establishment while their sister doulas, a new quasi-professional group of health workers, appear to be doing the low-paid personal support work that unregulated community midwives did in earlier decades. From this book I also learned that, in spite of the establishment of a midwifery school at UBC in 2002, there is still no BC-licensed midwife north of Smithers.
For the mothers, partners, sisters, midwives, and doulas whose stories are presented in The Spirit of Homebirth, labour is not a medical event, but graphically real and deeply connected with emotions, nature, community, and cultures reclaimed and invented. I lost count of the number of women who recalled vomiting during labour and the collective hours of back massage delivered by supportive life partners, doulas, and female friends. In these birthing narratives women wonder out into the garden to rest against the rough bark of a cedar tree between labour contractions. They create plaster casts of their rounded bellies. The powerful voices of Nuu-chah-nulth, Klahoose, and Cree women within this book introduced me to reclaimed Indigenous rituals of moss bags and Belly Button Ceremonies. And I met East Indian grandmothers-to-be busy preparing mouth-watering meals, simultaneously evoking a culture where birth is profoundly female-centred and multi-generational, and wondering aloud why their daughters were rejecting the excellent medical services of the Canadian hospital.
As the above reference to Indigenous birthing practices suggests, home birth is also a highly political act for many of those whose stories fill the pages of this book. Historically and today, many Indigenous women are forced to leave their communities to give birth in distant institutions, so birthing at home is understood by them as a key element in the project of decolonization. The notion of decolonization through reclaiming lost power and women-centred ways, however, threads through many of the narratives in this book. Placed in a wider perspective, this collection is about the need for a humanist health care system, where each of the examples I have underscored is given equal weight. The grassroots voices that are given a public life in The Spirit of Homebirth need to join with those advocating for increased hospice provision, more compassionate dementia care, and mental health funding that goes beyond a ten-minute consultation with the psychiatrist and a pharmaceutical prescription to create a collective push for community-centred health care that heals the whole person.