Drawn to Change: Graphic Histories of Working-Class Struggle
Storming the Digital Divide: The PovNet Story
Review By Eryk Martin
March 5, 2017
BC Studies no. 196 Winter 2017-2018 | p. 163-165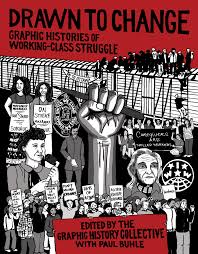 A decade ago, the labour historian Paul Buhle suggested in Reviews of American History that graphic novels and non-fiction comics would become an increasingly important medium for the exploration of historical topics. Since then, the publication of graphic histories has only accelerated. Drawn to Change: Graphic Histories of Working-Class Struggle and Storming the Digital Divide: The PovNet Story are two recent examples of this evolving genre that relate to British Columbia. Focused on histories of community organizing and radical politics, these two works excel at using a mixture of visual imagery and written text that is both captivating and intellectually stimulating.
Drawn to Change is an edited collection comprised of nine different graphic histories of working-class activism in Canada from the late nineteenth century to the present day. The people behind Drawn to Change are artists, activists, educators, and academics affiliated with the Graphic History Collective. Specific topics in the book include the Knights of Labour; Indigenous labour organizing; the Industrial Workers of the World; Bill Williamson, the radical photographer and veteran of the On-to-Ottawa Trek and the Spanish Civil War; the 1935 Corbin Miners' Strike; the feminist labour organizer Madeleine Parent; the Service, Office, and Retail Workers' Union of Canada; class struggle in 1990s Ontario; and a history of Filipina live-in care workers and their community activism over four decades. The collection also includes short essays that explain and contextualize each graphic history, a preface on the importance of the medium by Paul Buhle, and a bibliography that identifies the secondary and primary sources used in each piece.
Storming the Digital Divide is a smaller work focussing on the origins, activity, and significance of the online communication network, PovNet. Authored by PovNet members Penny Goldsmith and Kara Sievewright, along with additional artwork by Nicole Marie Burton, the work explores the issues confronting anti-poverty activism in British Columbia since the 1970s (although most of the book is focused on the period since the late 1990s), and the communication tools activists have used to confront those issues. While Storming the Digital Divide is a fascinating exploration of anti-poverty activism, it is also a history of technological change and the impact of the internet on community organizing.
Although the content and scope of these two works are quite different, they are both excellent examples of the potential of graphic histories of the Left. Activists, students, artists, educators, and others interested in the social history of activism in Canada will find much that is enjoyable and useful within these two works. They are carefully researched and engagingly presented. For a general audience, both works provide beautifully composed stories about the struggle for a more just and equitable world, often in ways that make the connections between past and present abundantly clear.
In addition to these general strengths, I believe that these two works offer something special to teachers who want to address social justice topics in their classrooms. In both cases, the graphic form has the potential to capture student interest and encourage enthusiastic critical engagement in ways that traditional analytical prose often does not. Over the last several years I've used a range of graphic histories to teach Canadian history at the university level – including Drawn to Change – and I've found these visual narratives to be powerful tools for getting undergraduate students to engage with the political and methodological dynamics of historical representation. When historical narratives are communicated through images – when these interpretations of the past appear on the page as visualized people, objects, and geographical settings – I've found that students have a clearer body of evidence through which they can assess the objectives, styles, and implications of a given author's work. With Drawn to Change in front of us, for instance, I have asked my students: what does resistance to capitalism, colonialism, and patriarchy look like to a given author or authors, and why are those visual choices important? Storming the Digital Divide could beg similar (and different) questions. In my experience, students have enthusiastically taken up such questions in response to graphic histories, with fantastic results. As a result, I see Drawn to Change and Storming the Digital Divide as engaging and inspiring books for scholars and activists, and suggest that instructors will find them particularly useful for engaging students' developing historical skills and understandings in the classroom too.
References
Buhle, Paul. 2007. "History and comics." Reviews of American History 35(2): 315-23.
Drawn to Change: Graphic Histories of Working-Class Struggle
Graphic History Collective, editors
Toronto: Between the Lines, 2016. 208 pp. $29.95 paper.
Storming the Digital Divide: The PovNet Story
Penny Goldsmith and Kara Sievewright
Vancouver: Lazara Press, 2016. 64 pp. $12.95 paper.