Civilizing the Wilderness: Culture and Nature in Pre-Confederation Canada and Rupert's Land
Review By Jonathan Clapperton
November 4, 2013
BC Studies no. 179 Autumn 2013 | p. 243-245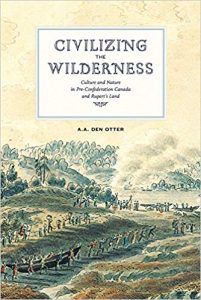 Newcomers to Canada and Rupert's Land in the mid-nineteenth century brought with them an assortment of cultural baggage. A. A. den Otter reveals that the twinned concepts of "civilization" and "wilderness" formed the dominant prisms through which these immigrants viewed both the landscape and the Aboriginal residents. Such views, he argues, significantly influenced the evolution of the Canadian nation and its identity, especially from the 1840s to the 1870s. Moreover, what Den Otter terms the "civilizing-the-wilderness" impulse – which he defines as the desire to transform the northern territories into "productive" lands — proved so compelling that many Aboriginal and Métis people adopted this mentalité as their own.
In most chapters, den Otter interrogates the writings of one or two historical figures to isolate and describe the "civilizing-the-wilderness" process. His subjects include the Strickland sisters, the British missionaries William Mason and Robert Rundle, Bishop David Anderson, the Aboriginal missionaries Henry Steinhauer and Henry Budd, and Reverend Peter Jones, an Ojibwa-Welsh preacher. Chapters are also dedicated to Governor George Simpson, the 1857 Parliamentary Select Committee on the Hudson's Bay Company's monopoly, and the economy of the Métis. This mixture of biography and social, cultural, intellectual, and environmental history works well and will appeal to historians from a range of backgrounds.
Though it is not reflected in the book's title, den Otter pays as much attention to the development of Native-newcomer relations in Rupert's Land as he does to nature-newcomer experiences. This is often a tragic tale. Civilizing the Wilderness: Culture and Nature in Pre-Confederation Canada and Rupert's Land is rife with examples of how Aboriginal peoples (including the Métis) were sidelined from centres of power — political, economic, or religious — even when, as colonial discourse prescribed, they mimicked non-Native society and ideas. The historiographical chapter is especially insightful. Here, den Otter argues that the Métis were indeed a part of the civilizing-the-wilderness process, a product as much of their own agency as of circumstances beyond their control. However, the least satisfying aspect of den Otter's analysis also concerns Native-newcomer relations: he too frequently constructs Native and Euro-British culture in rigid binaries. Once an Aboriginal or Métis person crossed into the European realm, den Otter writes, they inevitably lost their connection to their ancestors and rejected a "Native way of life" to join "civilization's battle against the wilderness" (137). Such analysis could have benefitted from an engagement with recent critical theory on hybridity, as Mary-Ellen Kelm, Paige Raibmon, and many others have done.
Nonetheless, Civilizing the Wilderness is a valuable addition to Canadian historiography. It contributes to our understanding of the multiple ways in which Euro-British North Americans constructed and experienced the environment and its Indigenous inhabitants, as well as how those multiple experiences were forced to operate within a dominant discursive structure. While "[n]ot everyone shared a negative view of wilderness," den Otter admits, this minority nonetheless linked it to civilization (xiv). This minority, including Rundle and Susanna Moodie, viewed "wilderness" romantically — as something that should retain much of its original character — even as they tirelessly and proudly worked to "civilize" it, thus destroying what they hoped to preserve. Similarly, a minority of individuals such as Rev. Peter Jones undermined their own attempts to preserve aspects of Aboriginal culture and to secure Aboriginal ownership of their traditional territories by participating in the civilizing process.
Civilizing the Wilderness: Culture and Nature in Pre-Confederation Canada and Rupert's Land
By A. A. den Otter
Edmonton: University of Alberta Press, 2012. 438pp, $49.95 paper