Building a Collaborative Advantage: Network Governance and Homelessness Policy-Making in Canada
Review By Erin Dej
June 11, 2019
BC Studies no. 203 Autumn 2019 | p. 165-166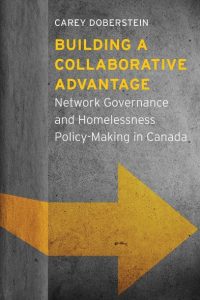 With 235,000 people experiencing homelessness each year in Canada, the nature and quality of the state response are crucial to preventing and ultimately ending homelessness. Doberstein's analysis of the role governance networks –groups of community stakeholders who have a formalized role in policy planning and decision making – play in that response is key to understanding why some locales have achieved greater success than others in addressing the crisis.
Building on a robust methodology consisting of key informant interviews, archival documents, and meeting observations, Doberstein traces eight governance networks across Vancouver, Toronto, and Calgary, and the ways they contributed (or not) to policy innovation and system coordination over the last 20 years. The book seamlessly weaves together several sophisticated theoretical frameworks – network governance theory, metagovernance theory, and deliberative democracy – to reveal how interpersonal relationships between community stakeholders and various metagovernors (federal, provincial, and/or local governments) is vital to developing and sustaining creative, coherent, and effective policies and programs.
The most significant claim made in the book is that governance networks that are well-established and inclusive of diverse perspectives have more brokerage and persuasion power to drive policy change, influence decision makers, and take on riskier initiatives that lead to innovation. Drawing on Huxham's (1993) 'collaborative advantage' concept, Doberstein compellingly argues that the connections within and between governance networks provide the greatest opportunities to address complex social problems such as homelessness. Doberstein warns though that a metagovernor whose leadership style constrains a governance network's mandate or has a contentious, rather than cooperative style can stifle innovation and coordination, despite strong relationships between networks.
The heart of the book lies in the case study chapters. The gritty details of struggling for legitimacy, navigating intense bureaucratic control, and finding success allow the conceptual arguments to come alive. Greater Vancouver stands out for fostering dynamic and co-collaborative governance networks. Doberstein equates much of their success to taking a regional approach, coordinating across 21 municipalities to create a comprehensive response to homelessness. Through their three governance networks, Greater Vancouver was among the first to gather essential data on the how many people are experiencing homelessness in the region, coordinated funding opportunities to minimize competition, implemented inclusionary zoning, and drew in influential decision makers and politicians to prioritize homelessness reduction.
Missing from Doberstein's analysis is an understanding of the broader social and political context that shapes the governance networks and metagovernors. Doberstein astutely notes the enormous fluctuations in political will, investment, and public discourse surrounding homelessness over time but does not capture the unique position homelessness holds as a political pawn, easily mobilized or discarded depending on the political climate. Similarly, the book's argument would be strengthened by including the contribution people with lived experience of homelessness and activists have made in cultivating our collective knowledge of homelessness as a social problem (Schwan 2016). Finally, the Calgary case study is lacking compared to its counterparts, particularly its comparison with the other cities and in the omission of Calgary's Aboriginal Standing Committee on Housing and Homelessness as a governance network.
Building a Collaborative Advantageis an essential read for those interested in modern forms of governance and policy development. It also is an important contribution to the literature on homelessness, complementing recent research on the history of housing policy (Suttor 2016) and the impact of advocacy networks on homelessness policy (Malenfant et al. forthcoming). As once again the policy landscape shifts with the introduction of the federal government's Reaching Home strategy, these lessons on how to effectively leverage community knowledge to address homelessness are timely indeed.
References:
Huxham, C. (1993). Collaborative capability: An intra-organizational perspective on collaborative advantage. Public Money and Management, 13(3), 21-28.
Malenfant, J., Nicholas, N., & Schwan, K. (forthcoming). Chasing funding 'to eat our own tail': The invisible emotional work of making social change. Canadian Journal of Nonprofit and Social Economy Research.
Schwan, K. (2016). Why don't we do something? The societal problematization of "homelessness" and the relationship between discursive framing and social change (Doctoral Dissertation). University of Toronto.